Rough Rider Knives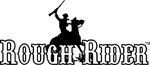 Rough Rider Knives are forged from legend. Maybe you've heard some of it. Maybe you've heard the stories about Teddy Roosevelt and his cavalry of 2,000 handpicked men. Maybe you've heard that they were the best of the best, drawn from all corners of the United States and all walks of life to do what others said couldn't be done. Maybe you've heard how their sense of bravery, adventure, and unshakable faith in each other led them to victory at San Juan Hill and cemented their places in history forever. You've heard about the legend. Now, it's time you heard about the knives.
Rough Rider Knives is the brand that dedicated knife enthusiasts turn to when they're looking to add to their collections. They know that Rough Rider Knives is a quality-conscious firm admired around the world for its immense domain of expertise and thorough understanding of what knife users are looking for. They have the options you want and need, and they're built to outlast many of their flashier (and more expensive) counterparts from other brands. Just like Teddy Roosevelt's 2,000 men a century ago, these knives are the best of the best, forged in the same philosophy that led the Rough Riders to fame and victory.
Answer the call.
Rough Rider Knives work because a team of consistent, hard-working professionals have internalized the spirit of that original band of adventurers. Their commitment to delivering high-grade cutlery engineered through the finest craftsmanship includes thoroughly examining their work to ensure that each blade is flawless, and it includes working around the clock to meet the increasing demand for their products.
You see the results of this commitment in Rough Rider's broad line of personal, pocket, and hunting knives. Knives like the Rough Rider Hunter's Buddy Fixed Blade Skinner. Easy to carry and undeniably practical, this knife is a perfect choice for hunters, wildlife enthusiasts, and outdoorsmen. Teddy himself would have appreciated it.
In fact, he probably would have liked all these knives. All Rough Rider knives incorporate tough construction accompanied by two blades of 440 stainless steel. Whether it's a rugged Rough Rider Fixed Blade or a classic Rough Rider Traditional Pocket Knife, the spirit of that era lives on in this collection.
Knife Country USA is your platform to buy Rough Rider Knives.
Knife Country USA has been a leading provider of Rough Rider Knives as well as many types of survival tools for over three decades. A family-owned and managed business located in America's heartland, we have curated one of the largest selections of high-quality knives that are available anywhere, and we are proud to count Rough Rider Knives among our bestselling brands. We offer great prices and an easy shopping experience backed by a 30-day satisfaction guarantee and free shipping on all orders over $89.
If you have questions about these or any of our products, let us know. We'd be happy to chat knives or help you pick out a blade that will be perfect for you. You can call us directly at (800) 342-9118 or send us an email anytime.
Top Selling Rough Rider Knives