Lansky Sharpeners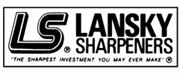 Lansky Sharpeners
Lansky Folding Pocket Knives: This is a full-scale range of folding knives that are ideal for carrying every day. The knives in this range differ with respect to their locking mechanisms. From slip joint to linerlock to lockback mechanism, you will get a tremendous inventory of folder knives in this series.
Lansky Sharpeners Arkansas Stone: The series offers high-grade knife sharpeners and sharpening kits that include fine and medium grit natural whetstones and a bottle of honing oil. The Arkansas sharpeners combine longevity and cutting-edge performance to deliver the best to the users.
Lansky Sharpeners Axes: Lansky Sharpeners inventory includes a series of axes, which are designed for outdoor activities like hunting, camping, trekking, and rock-climbing. The axes blades are made with quality 1075 tool steel material and can be used for a long period of time. The Lansky axes feature pry bar, impact tool, gas valve wrench and hose wrench. The handles of these axes is insulated and non-slip.
Lansky Sharpeners Benchstones: Benchstone sharpeners come in a variety of styles such as Tri-stone, double-sided and the standard single sharpener. These sharpeners are perfect to sharp restaurant knives/kitchen knives. The users can rotate the stones as per the requirements.
Lansky Curved Blade Sharpeners: The series contains sharpeners with a curved design intended for inwardly curved blades such as kukri, karambit, scythe and hawkbill style blades. These handy sharpeners are manufactured in a variety of grit stone types like ultra-fine, medium, fine and coarse.
Lansky Diamond Sharpeners: This series is one of the bestselling series of Lansky Sharpeners. The high-grade diamond sharpeners feature coarse and fine diamond benchstones and rods that perfectly sharp, finish and polish any blade easily. Most of the rod sharpeners have rubberized handles that offer strong and comfortable grip to the users.
Lansky Sharpeners Fixed Blade Knives: The knives in this series are constructed entirely of molded space age plastic. These fixed blades feature double edge blades, checkered sure grip handles and a 1" serrated section. These knives are known for being handy and dependable.
Lansky Sharpeners Hones: This series offers a variety of sharpening hones; such as leather stropping, sapphire polishing, medium diamond, coarse diamond, extra coarse diamond, fine, fine serrated, and many more. The hones feature color-coded handle patterns with finger grooves for a firm grip.
Lansky Sharpeners Honing Oil: As an owner of a knife sharpener, it is imperative to also own honing oil. The oil is a necessary lubricant as it protects the stones from clogging and offers a traditional natural stone knife and tool sharpening.
Lansky Sharpeners Linerlock Pocket Knives: The Linerlock Knives by Lansky Sharpeners are ergonomically designed cutlery featuring side-spring lock mechanism. The lock can be easily opened and closed with one hand. The knives are engineered using stainless steel. Easy-to-carry, the knives feature comfortable grip for secure handling.
Lansky Sharpeners Lockback Pocket Knives: This range of knives is meant for survival and recreational purposes. The stainless steel construction of these knives imparts immense strength and helps the knives survive in challenging situations. Lockback Knives work on the simple lock back mechanism or the spine locking mechanism that prevents the knives from accidental opening or closing.
Lansky Sharpeners Multi-Tools: This series has quality multi-purpose tools used in varied situations and can be used as a survival tool. The multi-tools are portable, easy to operate and have smooth functionality. The tools are perfect to be used for sanding, cutting, grinding, scraping, and polishing.
Lansky Sharpeners Sharpener Mounts: The sharpener mounts in this series enhances you knife sharpening experiences. These mounts increase leverage with their sturdy aluminum construction.
Lansky Sharpeners Sharpening Steel: These diamond-coated sharpening rods are highly functional and perform the sharpening job effectively. Most of these knife sharpeners are designed to sharpen butcher knives and to provide an accurate, sharp edge. The rubberized handles offer a tight and comfortable grip to the users.
Lansky Sharpeners Sharpening Systems: These sharpening systems contain the necessary equipment for all your knife sharpening needs. The kits include clamps, oil and a variety of diamond hones; making sharpening tasks trouble-free.
Lansky Sharpeners Quick Fix Series: This series involves handy and convenient knife sharpeners. Small in size, they can easily be carried around in your pocket.
Lansky ComboStone Dual Grit Series: This series offers stones with two different grits; fine and coarse and comes as a small benchstone or large benchstone. This 2-in1 stone makes for the convenience of sharpening multiple knives with different grit needs.
Lansky Crock Stick Sets: The crock sticks in this series are made of alumina ceramic sharpening rods, typically four of them with two different grits. The base that holds these rods is constructed of pine with two pre-set sharpening angles. Compact in size, these crock stick sets work great for small blades such as arrowheads and many more.
Lansky Diamond Benchstone Sharpeners: This series of benchstones is made of diamond grit surface and mounted to a red plastic base with a rubber grip ring. These stones are great for woodworking and come in three different grits such as fine, medium and extra fine.
Lansky Double Side Sharpeners: These double-sided sharpeners offer two grits in one sharpening paddles and benchstones. The paddles have black ergonomic comfort grip handles so they can be used for a longer duration. The benchstones have a rubber grip ring making it easy to mount to most surfaces.
Lansky Hand Sharpeners: This series has sharpeners that make for an easy grip in your hand. When on the go, these handy sharpeners can fit right in your pocket. There are many different designs to suit every individual need.
Lansky Sharpening Rods: The sharpening rods series involves high quality options from Lansky; from guide rods to dog bone rods to tactical rods, these rods are highly functional and perform the sharpening job effectively. These knife sharpeners are designed to sharpen tactical and hunting knives and to create a sharp edge.
Lansky Single Sided Sharpeners: The paddle sharpener in this series has a green trim comfort grip handle and full diamond medium grit sharpening surface. The medium grit on this high performance sharpener makes for a fast, working edge.
Sharpening a knife is essential for your favorite knives. LanskySharpeners offers a definite edge. Lansky Sharpeners is a preferred sharper over others in the world of knife enthusiasts.
Exploring Application of Lansky Sharpeners
Sharpening has a lot to do with blades. This becomes essential to choosing the right kind of sharpener for a different type of knife. Lansky Sharpeners can be effectively used for all types of knives namely Regular, Garden, Fillet, Axes Serrated, Kitchen, Razor/X-Acto, and Guthook.
Be it the legendary Controlled-Angle Sharpener System or any other hunting sharpener, Lansky is capable to fulfill your varying sharpening requirements. Even, when you are going out for camping, Outdoor Sharpeners can be of great help. Unlike kitchen or shop sharpeners, these are compact in size and offer impressive performance in the most rugged terrains.
Browse Through the Huge Selection of Knives at Knife Country USA
Knife Country USA is one of the most reliable dealers in the knife and outdoor tool industry. Having a flourished inventory, which includes more than 30,000 models of pocket knives, fixed blade knives, hunting knives, butterfly knives, machetes, flashlights and knife sharpeners; Knife Country USA gives you a huge variety of options to choose from. The online store has a huge selection of premium outdoor accessories and survival gear, manufactured and supplied by some of the elite brands across the globe. You can find an array of tactical gear from over 700 name brands including Buck Knives, Case Knives, Cold Steel Knives, CRKT Knives, Gerber Knives, Kershaw Knives, SOG Knives, TOPS Knives, Victorinox Swiss Army and many more. A superb megastore with an expanding product line, you can always trust Knife Country for quality and variety! Call us today if you need further assistance as we are here Monday through Friday for help.
Top Selling Lansky Sharpeners