Knife Sheaths/Cases/Pouches
View all Knife Sheaths/Cases/Pouches
Sheaths, pouches, and cases are vital accessories to protect one's valuable knives. Knife sheaths are designed to complement shape of the blades. A sheath provides comprehensive protection to the knife and also protects the person carrying it.
Types of Knives
There are generally three types of knife sheaths—Fold-Over Sheath, 2-seam Style Sheath and Fixed Blade Knife Sheath. Read on to discover more about these three options:
1. Fold-Over Sheath
Also referred as a Pouch Sheath, it is one of the top choices for knifing professionals. These pouches are strong, easy-to-open, and offer complete safety to knives during transit. Made mostly from leather, one part of this sheath is folded over the knife and sewn along with the other side.
2. 2-seam Style Sheath
A 2-seam style sheath can make carrying a knife a style statement. It is more of a contemporary type of sheath. Here, the sheath is made from two or more than two types of pieces of leather that are stacked and sewn on both sides.
3. Fixed Blade Sheath
Fixed Blade Sheaths serve a dual purpose. One is that they protect the knife itself from damage the second is that they protect the person carrying the knife when the knife is not in use. Fixed blade knife sheath are made in many materials however most of the time leather or Kydex are used.
Get the Assurance of Quality
Knife Country USA is an established online retail store, specializing in the market of knives and accessories. Knife Country USA wants to ensure our customers get the best pouches from leading brands like SOG, Puma, and Uselton Arms.
Featured Knife Sheaths/Cases/Pouches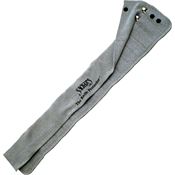 List Price: $37.38
Our Price: $

22.43
Savings:

$14.95

(40%)
Sack Ups - Protector 18. Model AC807. Holds 18 knives. Silicone treated gray cotton knife roll holds knives which measure up to 5" closed. Hang packaged.
Top Selling Knife Sheaths/Cases/Pouches
View all Knife Sheaths/Cases/Pouches