Marbles Outdoors Knives
View all Marbles Outdoors Knives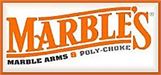 One of the oldest players in the knife manufacturing business, Marble Outdoors Knives retained its fame and quality throughout its journey from inception to now. The founder of the company, Webster L. Marble was an outdoors wizard, who can predict the board foot yield by merely looking at the forested acreage. His experience with hunting, fishing, camping and exploring the wilderness of nature was second to none. As the saying goes, having a need is the mother of invention, Mr. Marble continued to create various tools which would be both durable and practical.
Following the legacy created by him after designing the "Safety Axe", Marble Outdoors still produces trapper pocket knives, Muskrat knives along with axe, spork/can/bottle opener and Marble compass. Marble products are practical, effective in design and the historical significance attached to them adds to their value.
Browse Through the Huge Selection of Knives at Knife Country USA
Knife Country USA is one of the most reliable dealers in the knife and outdoor tool industry. Having a flourished inventory, which includes more than 30,000 models of pocket knives, fixed blade knives, hunting knives, butterfly knives, machetes, flashlights and knife sharpeners; Knife Country USA gives you a huge variety of options to choose from. The online store has a huge selection of premium outdoor accessories and survival gear, manufactured and supplied by some of the elite brands across the globe. You can find an array of tactical gear from over 700 name brands including Buck Knives, Case Knives, Cold Steel Knives, CRKT Knives, Gerber Knives, Kershaw Knives, SOG Knives, TOPS Knives, Victorinox Swiss Army and many more. A superb megastore with an expanding product line, you can always trust Knife Country for quality and variety! Call us today if you need further assistance as we are here Monday through Friday for help.
Top Selling Marbles Outdoors Knives
View all Marbles Outdoors Knives