First Aid Kits
First Aid Kits are a collection of supplies useful to give first aid in case of an accident or emergency. Depending upon the first aid requirements and area to be given attention, the size of these kits change. The appearance of mark on these kits is a mandate. It represents that these kits are designed as per medical guidelines. These first aid kits also differ as per the purpose. For instance, an adventure first aid kit will be inclusive of items like blood pressure cuff, oral & nasal airway kits and at least one-month supplies for the travels. In fact, these adventure first aid kits will be used by rescue professionals trained as Paramedics, Wilderness EMT or Wilderness First Responders.
At, Knife Country USA, we are offering different types of first aid kits, some examples include, Travel Medical Kit, Burn Dressings Kit, Individual First Aid Pouch, Wound Care Kit, and many more. Our first aid kits are inclusive of (2) straight hemostats, (1) curved hemostat, (1) scissors, (1) three scalpel handle, (2) scalpel blades, (2) suture sets, (1) tweezers, (1) needle probe, (2) alcohol wipes, (2) iodine wipes and (1) pen light. All this equipment is made up of medical-grade stainless steel which offers a higher standard; and is less prone to corrosion and abrasion. This first aid kit comes in an OD green canvas pouch, making it more suitable to carry on the go.
Browse Through the Huge Selection of Knives at Knife Country USA
Knife Country USA is one of the most reliable dealers in the knife and outdoor tool industry. Having a flourished inventory, which includes more than 30,000 models of pocket knives, fixed blade knives, hunting knives, butterfly knives, machetes, flashlights and knife sharpeners; Knife Country USA gives you a huge variety of options to choose from. The online store has a huge selection of premium outdoor accessories and survival gear, manufactured and supplied by some of the elite brands across the globe. You can find an array of tactical gear from over 700 name brands including Buck Knives, Case Knives, Cold Steel Knives, CRKT Knives, Gerber Knives, Kershaw Knives, SOG Knives, TOPS Knives, Victorinox Swiss Army and many more. A superb megastore with an expanding product line, you can always trust Knife Country for quality and variety! Call us today if you need further assistance as we are here Monday through Friday for help.
What brands are manufacturing First Aid Kits?
Listed below are direct link to brand pages on Knife Country USA. These are the top brands that are manufacturing First Aid Kits currently.
Featured First Aid Kits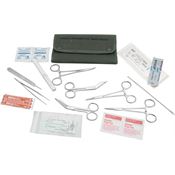 List Price: $36.88
Our Price: $

22.13
Savings:

$14.75

(40%)
Fast Shipping
Ships within 1 business day!
Model - FA80122. First Aid Kits 80122 - First Aid Field Survival Surgical Kit with Scalpel Handle. Comes in an OD green canvas pouch. All stainless steel instruments. Not Sterile. Contents Include: 2-Straight Hemostats; 1-Pair of Scissors; 1-Curved Hemostat; 1-Pair of Tweezers; 1-Scalpel Handle, #3; 1-Suture Set; 2-Scalpel Blades; 1-Holder; 1-Needle Probe; 2-Alcohol Wipes; 1-Pen Light; 2-Antiseptic BZK Wipes. Proudly made in the USA.
Top Selling First Aid Kits