Steak Knives
A Steak Knife is a common kitchen utility. Ideally, it should be easy to grasp and be sharp enough for cutting through tough meats, including steak. A Steak Knife is now regarded as a luxury knife in contemporary dining ensembles. Our collection of Steak Knives feature serrated blades, wooden handles, and offer precise cutting with minimal effort.
Overview of Steak Knife Heritage & Serrated Steaks
Serrated Steaks became a part of dining table settings in American and Europe before losing ground to other kitchen knives. Tracing their emergence during the Second World War, Steak Knives have an interesting history. They enjoyed patronage because of the unmet demand for blade polishing utilities for other knives. In comparison, a Steak Knife required little regular upkeep, equipped with a very sturdy stainless steel blade. Use of steel also meant no requirement for polishing or frequent sharpening. During the 1950s, hot treatment of steel blade became a success. This process eliminated the need of sharpening serrations of the blade.
Get the Assurance of Quality
Knife Country USA is an established online retail store, specializing in the market of knives and accessories. To ensure, our customers get only the best deals, we procure our increasing range of Steak Knives from leading brands like Bear & Son, Boker, and Forschner.
Featured Steak Knives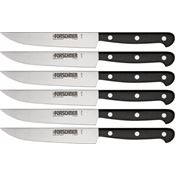 List Price: $96.25
Our Price: $

57.75
Savings:

$38.50

(40%)
Victorinox - Steak Knife Set. Model VN46799. Includes six knives with 5" blades. Black POM handles. Gift boxed.