DMT Knife Sharpeners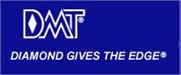 Established in 1976, Diamond Machine Technology (DMT) is a leader and innovator of a full range of diamond sharpening products. These sharpening tools are dependable and offer solutions to several sharpening, honing or deburring needs. The manufacturer offers sharpening products that cater to the needs of knife enthusiasts and the knife industry.
DMT's engineering and product development expertise and patented processes have evolved and expanded to service industrial, commercial and consumer markets. The knife sharpeners are commonly used by Do-It-Yourselfers, professionals and large commercial operations. The precise sharpening systems functions easily and efficiently to sharpen, hone, lap or deburr in the production, maintenance and repairing of plethora of knives and cutlery.
DMT: Where It All Began
DMT was a grinding wheel manufacturing firm that repurposed the center punch out of a diamond grinding wheel and created an entire new way of manual sharpening. The sharpening tools are the alternative to the traditional method of sharpening. They require no messy oil, grooving, or hollowing. The tools are unbreakable, super-fast sharpeners that offer clan-cutting.
DMT products are sold in markets to cater to the needs of culinary, lawn and garden, woodworking and carving, skiing, hunting, police and security, and military. The brand is sold worldwide and is recognized in Diamond sharpening and continues to receive awards for its innovative products and promotion.
DMT Product Series at a Glimpse
DMT Dia-Fold Series Knife Sharpeners: The series features diverse types of sharpening kits. The knife sharpeners are made using diamond stones that contain small diamonds attached to the face of a metal. The Dia-Fold Sharpeners are known to provide easy and fast sharpening. These sharpening tools are lightweight and compactly designed to be portable.
DMT Duo Series Knife Sharpeners: Features sharpeners with double-sided bench stones that have one coarse side while the other is a fine side. The knife sharpeners have two diamond surfaced sharpening sides to provide reliable and even sharpening every time. These sharpeners can be used to sharpen shears, cleaver and specialty knives, plane soles, and machetes.
DMT Knife Sharpeners Dia-Paste Series: The series includes high-performing, easy-to-use knife sharpeners that are made using diamond compounds. The sharpening tools have uninterrupted diamond sharpening surface that allows users to quickly put a razor edge on the small contact area and pointed tools.
DMT Knife Sharpening Kits: Includes sharpening kits and related accessories. The knife sharpening kits provide a fast, precise and professional knife sharpening system. The tools comprise of fine diamond for a razor-sharp edge, and extra-fine diamond to polish and refine the edge after sharpening the blade with a coarser diamond stone.
DMT Extra Fine Grit Knife Sharpeners: Includes sharpening rods, diamond whetstones, and bench stones. The Whetstone sharpeners are made using industrial diamonds that feature harder structure than any sharpening stone. The bench stones are green fine grit stones that feature long life diamond surface with precise flatness.
DMT Fine Grit Knife Sharpeners: These sharpeners help all the blades and tools in top condition. Most of the knife sharpeners and diamond whetstones in the Fine Grit series are made of high-quality material that makes sharpening and honing easier. The series includes bench stone sharpeners, whetstone sharpeners, diamond honing stones, and folding sharpeners.
DMT Coarse Grit Knife Sharpeners: The series comprises of several folding coarse grit sharpeners and fine bench stones. The sharpeners are light in weight and compactly designed to be carried easily. The sharpeners quickly restore the blunt edge with sharp one.
DMT Extra Coarse Grit Knife Sharpeners: The series constitutes of coarse grit stones, whetstones, and bench stones. These are professional knife sharpeners that make sharpening and honing easier. These sharpeners are designed with the hardest materials for fine sharpening.
DMT Aligner Knife Sharpener Kits: Includes a range of sharpening kits and accessories which make honing and sharpening easier. The kits include diamond whetstones, stone holder, sharpening stones, coarse and fine diamond grits.
DMT Angler Mini Sharp Knife: This series includes folding mini sharpeners that are lightweight and portable. The sharpener features an ergonomic design that makes sharpening, deburring, and honing in tight places easy. These sharpening tools are perfect for hunters, fishermen, and campers.
DMT Ceramic Knife Sharpeners: The series consists of edge sharpeners that provide finest polished edge of all bonded abrasives. The sharpeners are made using lightweight aluminum base that is unbreakable and wear resistant. The sharpeners can be used at home, kitchen, shop restaurant, and other recreational activities.
DMT Diamond Dia-Sharp Knife: It consists of mini sharpeners, honing stones, grit stones, and more. These knife sharpeners are designed compact and are easy to carry. They are perfect for small area and pointed tools.
DMT Diamond Honing Cones: The series features tapered diamond slip stones that are perfect for working gouges, wood turning, dye work, dental tools and more. The cones are designed in half round shape with a fine grit mesh for accurate sharpening.
DMT Diamond Mini Knife Sharpeners: Includes portable mini sharpeners that feature handy key chain swivel ring to attach keys and zipper pulls or backpacks. Made using premium-grade materials, the sharpeners offer fast and reliable sharpening.
DMT Diamond Ski and Snowboard Edge Care Sharpeners: These sharpeners are known to add a quick edge to the snow board or ski board. These are made with coarse grit wherein the metal is covered with diamonds that makes the sharpening easier.
DMT Diamond Whetstone Knife: The series features fine grit, coarse grit and extra fine grit diamond whetstones. The Whetstone sharpeners are made using industrial diamonds that feature harder structure than any sharpening stone.
DMT Double Sided Diafold Knife: The sharpeners offer two-stage sharpening with convenience. The sharpeners are designed using two diamond whetstone sharpeners that are combined to create a lightweight sharpener.
Warranty
DMT Knife Sharpeners offers products that are free from any manufacturing defects. The manufacturer warranties against any defects and ensures repair or replacement in case of any defect. However, the warranty stands nullified in case the product is subjected to misuse or has undergone normal wear and tear. The products cannot be used as a hammer, chisel, or a pry bar, the manufacturer will charge reasonable fees for the repair.

Browse through Knife Country USA to Buy the Best Knife Sharpeners
Knife Country USA is an American knife retail store that offers an array of knife and outdoor tools. The portal offers a plethora of knife and outdoor gear options to choose from. Its ever-expanding inventory embeds over 30,000 models of folding pocket knives, folding pocket knives, butterfly knives, flashlights, knife sharpeners and more. The online retailer also offers a premium collection of outdoor accessories including backpacks, fire starters, survival gear, camping tents, binoculars and more. Explore the space to look for tactical gear from over 700 brands including DMT Knife Sharpeners, CRKT Knives, SOG Knives, and more.
Top Selling DMT Knife Sharpeners