DMT Knife Sharpeners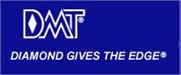 DMT® is one of the best places to look for high-performance diamond sharpeners at the most reasonable prices. Designed using the best of technology, these DMT Knife Sharpeners will give your cutlery a definite edge over others! In fact, the collection of kitchen tools by DMT® is designed to suit the varying sharpening requirements and repair of the damaged glassware and dinnerware.
Bench Stones
Diamond Whetstone™, Dia-Sharp® and DuoSharp® benchstones are three different types of sharpening items. All of them have interrupted and continuous surfaces, and can be availed in different sizes.
Folding Models
DMT® Folding sharpeners are well known for their impressive sharp edges. They can feature straight, curved or even, serrated edges perfectly.
Pocket Models
DMT Pocket Sharpeners are especially designed for Professionals, DIYers, machinists, hobbyists and sport enthusiasts. The complete line of pocket sharpeners is appreciated for their unique-yet-simple designs and enhanced utility share.
Ski & Snowboard Edge Care
DMT® diamond Stones can instantly remove the toughest edge burns, which result from rock damage and manmade snow. These stones not only save time, but also, lower the overall steel file costs.
Guided Sharpening
We have three different guided sharpening systems, namely, Aligner™ Easy Edge-Guided Sharpening Kits, Aligner™ Accessories and Diafold ® Magna-Guide® Kits.
Sharpening Steels
We offer two different types of sharpening steels namely Ceramic Sharpeners and Diamond Steel™ Sharpener. These sharpening steels offer perfect alignment during the sharpening session.
Top Selling DMT Knife Sharpeners