Traditional Folding Pocket Knives
View all Traditional Folding Pocket Knives
A Pocket Knife is a knife where the blade is easy to fold into the handle. This gives the folded knife a very compact shape, making it ideal to be kept in the pocket. The compact design and razor-sharp blade of this knife are the two major reasons that make it popular across the world. Pocket Knives are also known as "jack of all trades" knife. Pocket Knives can be used for an array of functions like opening an envelope, cutting twine, performing tracheotomy, or self-defense. The length of blade in such a knife varies from 5 cm to 15 cm.
Exploring Pocket Knives
Some of the most commonly used Pocket Knives are listed below for your knowledge consumption:
Barlow knife: a long Bolster Knife with an oval handle and two blades. These knives are quite sharp and named after their inventor.
Canoe Knife: a special type of knife with American canoe handles. This kind of knife usually has two-drop point blades.
Sodbuster Knife: a special kind of knife with no-bolster and a plan blade.
Trapper: a big size knife featuring a clip and a Spey Blade. Most times, the blades are hinged from the same end.
Slip Joint Knife is a special type of pocket knife, which ensure its blade is easy to open and close with a strong backspring. These slipjoint knives are designed in contrast with penny knives, as the latter have no locking mechanism. These slipjoint knives are perfect alternate to knives which used friction to open and to close their blades. Depending upon application and incorporation of a few features, Slip Joint Knives tend to vary from peanut to sowbelly, Barlow to canoe, and congress to trapper. If you are planning to buy these slip joint knives online, look for Knife Country USA without further ado. It is a reputed webstore that procures slip joint knives from brands like Boker Plus, Case, Spyderco, Puma, and many more.
What brands are manufacturing Traditional Pocket Knives?
Listed below are direct link to brand pages on Knife Country USA. These are the top ten brands that are manufacturing Traditional Pocket Knives currently.
Featured Traditional Folding Pocket Knives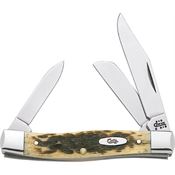 List Price: $107.43
Our Price: $

67.99
Savings:

$39.44

(37%)
Fast Shipping
Ships within 1 business day!
Model - CA079. Stockman Amber Bone. Closed: 3.625 inch; Blade: Chrome Vanadium l Standard Edge; Handle: Bone; Other Info: Inlay Shield l Nickel Silver Bolsters. 63032CV pattern. Chrome vanadium carbon steel clip, sheepsfoot and pen blades. Amber handle. Boxed.
Top Selling Traditional Folding Pocket Knives
View all Traditional Folding Pocket Knives