Hobo Pocket Knives
A Hobo Knife is one of the most common types of pocketknives. It shares its structural basis with a Trapper Knife. The most basic type of a Hobo Pocket Knife is inclusive of a separate knife, a fork, a spoon and a bottle opener. In such knives, the handle splits apart. During the period of 1900 to 1940, the most popular Hobo Pocket Knives came in two variations—Hobo '51 and Hobo '52.
Going Down the Hobo Knife Memory Lane
Our team has witnessed an increasing use of Hobo Pocket Knives. When turning back the wheels of time, to 1983, Case reintroduced Hobo Pocket Knives as a set of multi-utility knife that could be used as a can opener, soup spoon, three-pronged fork, or a knife blade. Our customers loved the dexterity of the Hobo Pocket knife. Hobo Pocket Knives are great for camping or hiking. With an all-in-one layout, Hobo Knives help one save money and space. From skinning animals or opening a beer can, Hobo Pocket Knives can take upon most knifing challenges.
Buy with Confidence
Knife Country USA is an established e-store, selling popular and rare Knives and Outdoor Survival Accessories. To ensure our customers get the best deals, we procure our increasing range of Hobo Pocket Knives from leading brands in this segment like Ka-bar, Case, and Sarge.
Featured Hobo Pocket Knives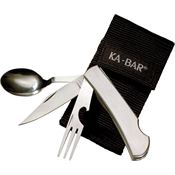 List Price: $34.50
Our Price: $

20.42
Savings:

$14.08

(41%)
Ka-Bar - Hobo Outdoor Dining Kit. Model KA1300. 4" closed. Durable stainless constructon. Includes knife with locking blade, fork with bottle opener, and spoon. Slide apart design allows each utensil to be used separately. Lightweight. Perfect for biking, camping, backpacking, boating, picnics or lunch boxes. Black nylon web sheath. Boxed.
Top Selling Hobo Pocket Knives