Knife Sharpeners
Sharpening knives is an art. Everyone claims to have their own "best" method, and while some knife sharpening principles stay the same, the variety of techniques can be confusing as well as intimidating. But make no mistake: Sharpening knives is one of the best skills you can learn. Keeping your blade well-maintained doesn't just make it sharper, it keeps you safer -- the dangers of a dull blade are criminally underrated.
So, what should you do? We offer knife sharpening systems to cover just about every type of knife, need, and skill level. From all-in-one knife sharpening kits to on-the-go pocket sharpeners and sharpening steel, we have the tools you need to keep your blade performing at its peak. And if you have questions about what would work best for you, we can help you out.
Play it safe. Stick to the basics.
Many sharpeners are designed with a specific set of knives in mind. Some knives are best sharpened with hard materials like steel or a whetstone, while others respond better to abrasive cloth or light-grit sandpaper. Some sharpeners are generalized for most blades, while others are built specifically for an exotic or unique knife. Our recommendation: Be conservative. Going down the wrong path or experimenting with unproven sharpening methods can decrease a knife's performance or even ruin a perfectly good blade. This is a good rule of thumb even if you're just polishing or cleaning your knives. Stick with what you know, and stick with what works.
What makes a good knife sharpener?
All good knife sharpeners have a couple factors in common: They'll be made from materials that can effectively grind and hone the blade, and they'll be structured to help keep the blade at an optimum angle during sharpening. Maintaining the right angle is one of the most important and trickiest parts of sharpening a knife, and any decent knife sharpeners will take that into consideration. Getting the angle wrong can unevenly sharpen the blade or throw it out of alignment, which, in addition to reducing the knife's performance, can lead to safety issues. Some knife sharpeners, like this one, have ingenious designs built entirely around ensuring that you keep the blade at the perfect angle.
Getting professional results.
Knife sharpening can be so tricky, in fact, that many manufacturers offer knife sharpening as a service. While it's never a bad idea to get your knife professionally sharpened, if you don't feel like waiting while you send out your knife and then waiting some more for it to come back (we don't), and if you're more of a do-it-yourself type (we are), then you'll be happy to know that many of the sharpening tools we offer are the same ones the pros use, and many can give you professional-grade results quickly.
Get the assurance of quality.
Knife Country USA is an established retail brand that specializes in knife sharpeners and cleaning kits. We bring in knife care supplies from leading brands like Becker, Knife Blanks, Jameson, and Warthog. We care about knives, and we care about maintaining them. All of our purchases come with a 30-day satisfaction guarantee. We also provide free shipping on all orders over $89. If you have questions about sharpening your knives, or want to know more about any of our products, please give us a call toll-free at (800) 342-9118 or send us an email.
Featured Knife Sharpeners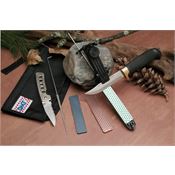 List Price: $109.70
Our Price: $

65.82
Savings:

$43.88

(40%)
DMT - The Aligner Deluxe Kit. Model DMTADELUXE. Includes interchangeable stone holder and knife clamp, three 4" diamond whetstones and serrated knife sharpening accessory. Nylon storage pouch. Knives not included.
Top Selling Knife Sharpeners