Knife Sharpeners
Stick to the Basics, Play it Safe
Often, each sharpener is useful for a certain set of knives only. Some knives need sharpening with hard materials like a stone while some need softer sharpening provided by slightly abrasive pieces of cloth or light-duty sandpaper. Some are sharpeners have a general application—meant for all blades. Some are relevant for unique knives. It is better not to experiment too much and follow the tested path. The safe, more conservative approach is often the best. Even when cleaning, it doesn't make sense to experiment with new, untested cleaning solutions.
What do Knife Sharpeners offer?
Available in many types, Knife Sharpeners help to keep the knife's edge sharp and properly aligned. Some serrated sharpeners are made of diamond whetstone and help to sharpen knives in a traditional way. Some professional edge-makers surpass every serrated, wavy, and electric knife sharpener. These sharpeners feature a dual-hardened, grooved, butcher steel sharpening rods and dual honing steels. With edge guides and a gun sight knife aligner, this assembly can quickly sharpen most knives. Also, it removes the minute metal protrusions to ensure a smooth edge forever!
Get the Assurance of Quality
Knife Country USA is an established online retail brand, specializing in the niche of Knife Sharpeners & Knife Cleaning Kits. To ensure our customers get only the best deals, we procure our increasing range of knife care supplies from leading brands like Becker, Knife Blanks, and Jameson.
Featured Knife Sharpeners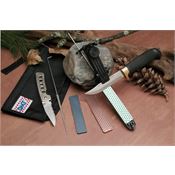 List Price: $109.70
Our Price: $

65.82
Savings:

$43.88

(40%)
DMT - The Aligner Deluxe Kit. Model DMTADELUXE. Includes interchangeable stone holder and knife clamp, three 4" diamond whetstones and serrated knife sharpening accessory. Nylon storage pouch. Knives not included.
Top Selling Knife Sharpeners