Kitchen Sharpening Steels
View all Kitchen Sharpening Steels
A lot of people have a mythical belief that a Sharpening Steel is dedicated to one cause, i.e. sharpening kitchen knives. Contrary to popular belief, Sharpening Steels are used for aligning the knife's edge. Over a period of time, a knife is susceptible to being curled or becoming minimally twisted. This hampers the precision of cuts and cross-sections. Even, if you cannot see a curl on your knife, believe us, it is most likely to have slight flaws that are often not visible to the naked eye. It is advisable to adopt regular steeling as a part of your kitchen mannerisms.
Get Your Knife Steeling Basics Right
To effectively use a Knife Sharpening Steel, one should be familiar with some basics. This includes:
Position the sharpening steel correctly—ideally in a vertical direction over a cutting board or any other appropriate surface.

Most of the knives are sharpened at 20 degree angle—keep this in mind while using your sharpening steel.

Achieving the right steeling angle can be demanding—to save time, handle the angle's direction task patiently.

Understand using the angles—hold your knife at a right angle, then half at 45 degrees and then, cut in one more half at roughly 20 degrees.

Take alternate positions—this is the best approach for comprehensive steeling.

Don't over-steel—moderate and regular degree of steeling works best.

Maintain uniformity—steel each side of the knife with equal number of strokes to get evenness for the perfect cutting edge.

Contact Us for the Best Knife Sharpening Steels
We, at Knife Country USA is an established online retail brand, specializing in the market of knives and accessories. To ensure our customers get the best deals, we procure our increasing range of Kitchen Sharpening Steels from leading brands like Hewlett Diamond, Cold Steel, and Forschner.
Featured Kitchen Sharpening Steels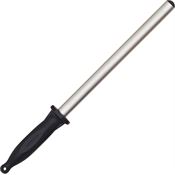 List Price: $38.75
Our Price: $

23.25
Savings:

$15.50

(40%)
Hewlett - Diamond Sharpening Rod. Model HMP10. Measures 10" x 3/4". All rod sharpeners have a molded plastic handle.
Top Selling Kitchen Sharpening Steels
View all Kitchen Sharpening Steels