Becker Knife & Tool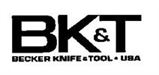 Choosing the best knife that is within your price range, meets your knifing requirements, and promises quality of build and durability isn't easy. There is a clutter of online knife retailers with similar offerings. We have taken the initiative to get you acquainted with better options in this segment. We choose the most trustworthy knife manufacturers/brands—those who have built a reputation through years of service. Here, we present Ka-Bar Knives. This is an A-listed knife retailer providing a wide array of branded knives and accessories.
Know Your Brand Better: Ka-Bar Knives
The founder of Becker Knife and Tool, Ethan Becker was a chef before he founded this company. In the 80s, he partnered with BlackJack Knives to produce his designs. Author of "Joy of Cooking", Ethan studied at the Cordon Bleu in Paris. Later, a failed partnership with Camillus Cutlery Company that went bankrupt in 2007 seemed to have doused his enthusiasm. However, Ethan got back to his passion and formulated Ka-Bar Knives—reputed for their overall quality, functionality, and durability. This includes knives inspired by the Second World War.
Browse Through the Huge Selection of Knives at Knife Country USA
Knife Country USA is one of the most reliable dealers in the knife and outdoor tool industry. Having a flourished inventory, which includes more than 30,000 models of pocket knives, fixed blade knives, hunting knives, butterfly knives, machetes, flashlights and knife sharpeners; Knife Country USA gives you a huge variety of options to choose from. The online store has a huge selection of premium outdoor accessories and survival gear, manufactured and supplied by some of the elite brands across the globe. You can find an array of tactical gear from over 700 name brands including Buck Knives, Case Knives, Cold Steel Knives, CRKT Knives, Gerber Knives, Kershaw Knives, SOG Knives, TOPS Knives, Victorinox Swiss Army and many more. A superb megastore with an expanding product line, you can always trust Knife Country for quality and variety! Call us today if you need further assistance as we are here Monday through Friday for help.
Top Selling Becker Knife & Tool