Pocket Knives
A Pocket Knife is a knife where the blade is easy to fold into the handle. This gives the folded knife a very compact shape, making it ideal to be kept in the pocket. The compact design and razor-sharp blade of this knife are the two major reasons that make it popular across the world. Pocket Knives are also known as "jack of all trades" knife. Pocket Knives can be used for an array of functions like opening an envelope, cutting twine, performing tracheotomy, or self-defense. The length of blade in such a knife varies from 5 cm to 15 cm.
Exploring Pocket Knives
Some of the most commonly used Pocket Knives are listed below for your knowledge consumption:
Barlow knife: a long Bolster Knife with an oval handle and two blades. These knives are quite sharp and named after their inventor.
Canoe Knife: a special type of knife with American canoe handles. This kind of knife usually has two-drop point blades.
Sodbuster Knife: a special kind of knife with no-bolster and a plan blade.
Trapper: a big size knife featuring a clip and a Spey Blade. Most times, the blades are hinged from the same end.
Buy with Conviction
KnifeCountryUSA is an established web-based store – specializing in modern and classic pocket knives. To ensure you get only the best deals, we have a wide range of Pocket Knives from leading brands like Swiss Army, Case, and Opinel.
Featured Pocket Knives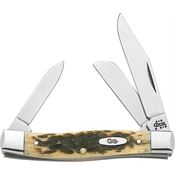 List Price: $84.18
Our Price: $

49.83
Savings:

$34.35

(41%)
Case Cutlery - Stockman Amber Bone. Model CA079. 63032CV pattern. 3 5/8" closed. Chrome vanadium carbon steel clip, sheepsfoot and pen blades. Amber bone handles. Nickel silver bolsters and script style inlay shield.
Top Selling Pocket Knives